The origin of Las Fallas festival dates back to wintertime in the Middle Ages, when carpenters and craftsmen used wooden candleholders, called parots, to light their work. When spring equinox came and the nights drew shorter, the parots became redundant and the carpenters burnt them. This custom did not become sacred until the moment when the Catholic Church connected it to the worshipping of the patron saint of carpenters, Saint Joseph (San José), and established a fixed celebration date in the calendar. The wooden candleholders were transformed into small wooden figures, which frequently portrayed a well-known person from a local city or village. Indeed, a satirical aspect to the celebrations developed over a long time and overshadowed the religious motives of the Church.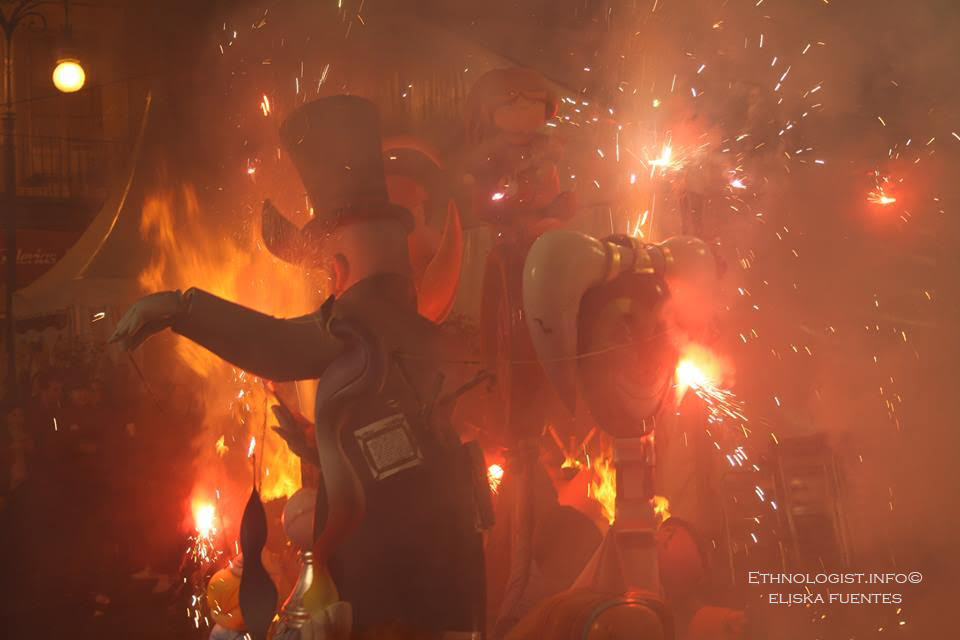 ---
An art that may cross the line
Las Fallas – which takes place from 15 to 19 March – is known once again for its satire, today of local and state political affairs, as well as global issues and events, with its caricature figures (ninots) of politicians, Hollywood stars and important local figures. These prompt much debate about the nature of 'art' and the production of vulgar or even pornographic figures often proves controversial. Unique and distinctive artistic creations are apparently becoming more and more rare at the festival. On the other hand, the meaning of some of the figures reflects their creators' ideas and views, with common themes including corruption, immigration, destruction of traditional communities and values, same-sex marriages, consumerism and widespread 'vices' such as vanity, greed and laziness.
---
Ninots in the streets
Walk through the streets of Valencia during the period of Las Fallas and you cannot help but notice these creations. Ninots tower above buildings, others almost block entrance to narrow streets and dominate the middle of squares. As the modern world demands everything bigger, more colourful and more fun, materials of yesteryear (wood, paper, wax or cardboard) have made way for wooden structures covered by shapes sculpted from polystyrene. This requires the input of engineers and builders as well craftspeople, not least to ensure that a burning polystyrene sculpture up to 20 meters high does not became dangerous.
---
Las Fallas in the past and today
Historically, the celebrations also played a social role. In the 19th century, the sculpture artists (artista fallero) were selected from prominent carvers. They worked and eat together and shared many other activities which helps to strengthen relationships in society. This cultural and social aspect have been retained. The celebration of Las Fallas has become increasingly attractive to tourists, and the celebrations have spread into shops and schools. Students learn about the history of the custom and some secondary schools and universities even learn how to create Las Fallas figures. The crafts remain important and fallero artists are supported by a wide neighbourhood community. Over the year, the craftspeople work on furniture, decorations and ornaments, reflecting the festival's commercialization and growing attraction to tourists, which has created a market for selling souvenirs and promotional items.
---
Celebrations during Valencia´s festival of fire
Las Fallas festival, one of the cultural elements on the UNESCO Intangible Cultural Heritage List, is not only about spectacular fallas. For example, each morning begins with a parade (La Despertà), accompanied by music and historic costumes. During the festival a queen is chosen (the Fallera Mayor), whose wardrobe is always luxurious: her dress must be hand-sewn and features the most expensive silk fabrics with gold-threaded accessories. The queen's wardrobe can cost her family as much as €30,000. At 2pm each day, La Mascletà – a coordinated series of firecracker explosions – wakes the city from its siesta. Unpredictable fireworks that emit a lot of smoke also go off all day. Numbers of people are fancy to such festivity, nevertheless, a large proportion of the public is showing increasing anxiety about these aspects of Las Fallas.
---
La cremà
Finally, la cremà – the last night of Las Fallas festival – arrives, when the hundreds of spectacular sculptures and figures are burned. By this time, these constructions, which cost around €200,000 each (with the largest reaching €900,000) – financed by the Casall fallero organisations from Valencia district – have been in the city just five days. At around 10pm they are set alight, creating a near-apocalyptic view of a city burning as Valencia sets its own city on fire – beating Emperor Nero at his own game, perhaps? The burning figures, exploding fireworks and heavy smoke present a significant challenge for firefighters, of course, who are on alert all night and often shower the front of buildings with water as a preventative measure. As morning dawns, the chaos is silenced. With a spectacularly efficient city clean-up, it would be difficult to tell that on 20 March Valencia had been in flames.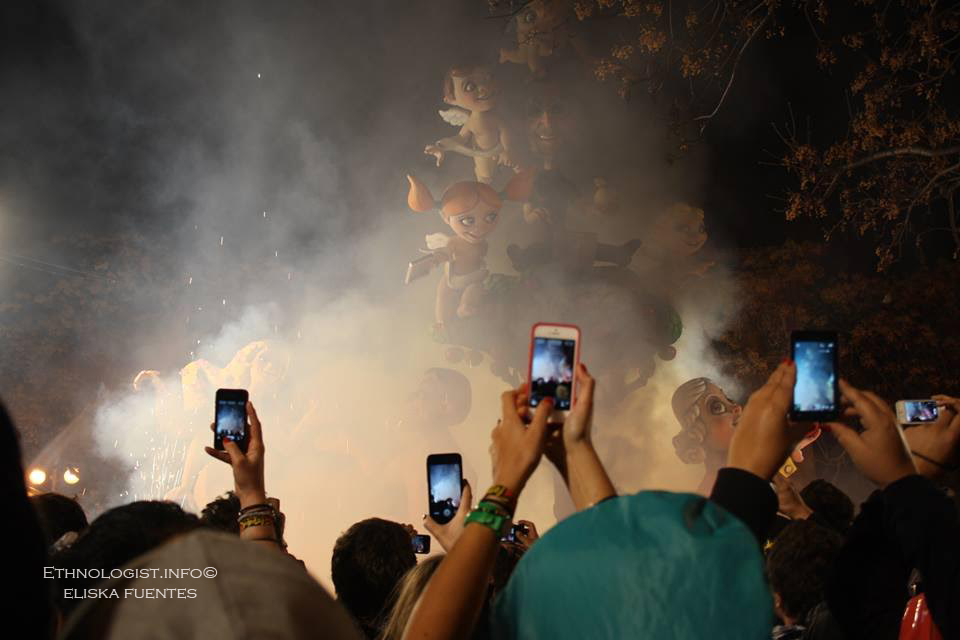 ---
Sources1.

Each link available URL: 12. 6. 2017; 16:15
ADEIT, Fundación Universidad-Empresa de la Universitat de València
Blog Catherine Dolan: An inside look at las Fallas
DIARO ABC, S. L.: Todo lo que hay saber sobre las Fallas
Generalitat Valenciana: Artista Fallero y Construcción de Escenografías
GREMI ARTESÀ D´ARTISTES FALLERS

Finanzas para Mortales: ¿Cuánto cuesta una falla?
Spanish Fiestas: Las Fallas Festival – Valencia
Valencia Fallas festivity – UNESCO
Valencia city Guide and Travel: Fallas – The Sculptures
20 Minutos Editora, S. L.: Las Fallas por dentro: la profesión del artista fallero
---
Photographer: Eliška Fuentes